Ok I have been so behind this week but I as so honord to say that I have been awarded the Liebster award by 3 wonderful women this week, yes three times so I am going to thank each one here in a second, answer all of there questions and then nominate my own 🙂 So bare with me this will be a long post!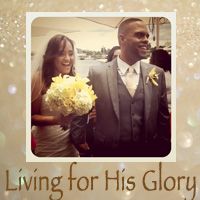 Thank you Mariel for the award, I love reading your blog, your blog is actually one of my favorites when it comes to looks 🙂

Next I want to give another huge shout out to Brandy over at Wonderfully Messy Mom
Thank you so much Brandy for the award, it has been nice getting to know you and working with you altogether.
And Last but not least I want to give one more huge shout out to Esther over at Esther Norine Designs
Thank you so much Esther for the award, I love reading all of your weight loss Wednesday it keeps me encouraged.
1. List 11 facts about yourself.

2. Answer the 11 questions given to you. (I have one set from each woman – so 22 questions!)

3. Create 11 new questions for the bloggers you nominate for the award.

4. Choose 11 bloggers with 200 or less followers to nominate.

5. Go to each bloggers page and let them know about the award.
So here are 11 random facts about me!
Both of my children are named after a family member.
I watch way to much T.V.
I think I want 4 kids (I have 2)
My middle name is Renee
I love shoes
Spring is my favorite season
Green is my favorite color
I am 5'8
I have long toes lol…
I love helping people
I look just like my grandma Flores
Now for my questions:
Questons from Mariel
What are some of you Christmas traditions?
In my house growing up and even now we wake up really early to open presents, like 5a.m. early
What is your biggest pet peeve?
I hate it when people do not use there blinker!
What do you love the most about blogging?
Tell us where your blog name came from?
Wow this is a good question, it just came to me one day, its about my every day life so I picked walking in my shoes.
What do you think is your best feature?
I love my picture header.
Are you a morning person?
Yes I love getting out early but only when I have something to do or somewhere to go, not to just sit at home.
Losing
my children or husband.
What is your favorite memory as a child?
What is your current favorite song?
I do not have a favorite song, I love music but no favorite song..
Whats your all time favorite book?
Do not have one, I know lame right…
Whats you favorite quote/verse?
I know this is everyone's but John 3:16 For God so loved the world that he gave his one and only Son, that who ever believed in him shall not perish but have eternal life.
Now my questions from Brandy
What is your favorite food?
Mexican, even tho it is not healthy at all.
What is your favorite genre in books?
Non Fiction
How many siblings do you have?
I have two brothers, 4 brother-n-laws, 5 sister-n-laws. I count them all
Who inspires you the most in life?
God
How many children do you have or want to have?
I have 2 boys but I think I want 1 if not 2 more
Do you follow a religion? What is it if so?
I am a Christian, Nondenominational
Stationary and snail mail or email and facebook?
Stationary
How many hours a day do you stay on the computer?
Too many to count
Do you work or stay home?
I am a stay at home mom and wife
What is your favorite season?
Spring


And my questions from Esther
Why do you like blogging?
Because I love sharing my story's with the world
Where is your dream vacation?
I would love to go to Greece
Do you have any pets? What are their names?
I have a dog named FleaRoy
What is your guilty pleasure?
Candy
Do you choose to pick up the remote or pick up a book first?
The remote by far
Do you like Starbucks? What do you get there?
I love it and I get a caramel Macchiato (yumm)
Do you prefer purses over shoes or vice versa or equal?
Shoes by far (I love my shoes)
Are you a cook or a baker?
I love to do both
What is your go-to accessory?
A necklace
Do you prefer country living or the city?
I love the country, I want to go back so bad.
My questions!
1.If you won the lotto, what would you buy first?
2. Long hair or short hair?
3. (hypothetically) What will you next child's name if a girl?
4.(hypothetically) What will you name your next boy?
5. What is your favorite side dish?
6. Facile hair or none?
7. What is the craziest thing someone ever told you?
8. What will you be for Halloween?
9. What do you see yourself doing in 10 years?
10. are you happy with your blog?
11. What would you change about your house if you could?
Ellie at Ellalogy